What is the theory behind this anxiety worksheet KS2?
Early-life worry can interfere with children's social, emotional, and cognitive growth. Sharing your feelings is a good strategy to combat anxiety. According to research, play therapy for kids with anxiety disorders has been shown to successfully lower anxiety levels in kids of preschool and school age.
How will the worksheet help?
The worksheet helps clients to express their feelings. When children express their emotions early on, they can begin to develop better coping mechanisms for challenging feelings and become less fearful of their anxieties.
How to use the worksheet?
The therapist uses this worksheet during a session with the client. Parents can also use this worksheet with their children to make them able to talk about their anxiety.
Anxiety Worksheet KS2
There are some things that make us anxious or worried. It's time to fight these worries. The superhero is here, let him know about your worries.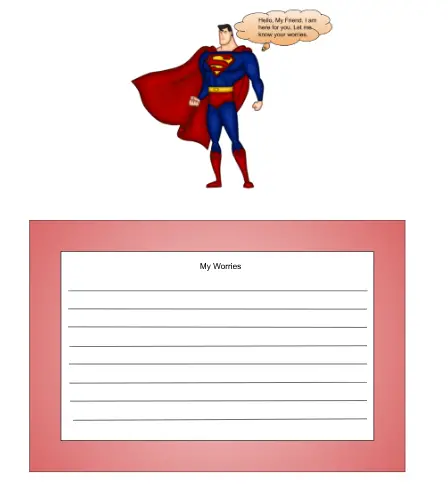 References
Nursanaa, Wa & Ady, Intan. (2020). Play Therapy for Children with Anxiety Disorders.
Maria A. Geraci e Francesca R. D'Angelo. (2021, September 19). How to fight the child's anxiety: CBPT intervention. Cognitive Behavioral Play Therapy | Play Therapy. https://www.cognitivebehavioralplaytherapy.com/en/how-to-fight-the-childs-anxiety-cbpt-intervention/
You can download this worksheet here.