What is the theory behind this anxiety worksheet for Elementary Students?
Elementary school students find it difficult to discuss their anxiety or fear but like adults, children can also be the victim of anxiety. CBT and Art therapy are beneficial for managing anxiety in children.
How will the worksheet help?
The worksheet is beneficial for clients who find it difficult to talk about their anxiety. The worksheet helps children to talk about their anxiety and understand anxiety in a better way.
How to use the worksheet?
The therapist uses this worksheet during a session with the client. The therapist instructs clients to write down about their worries and how they impact them.
Anxiety Worksheet for Elementary Students
What are the things that make you worried? Write your worries in the clouds.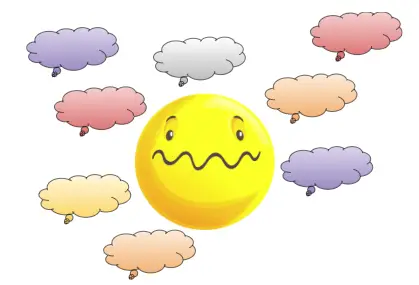 Picture your anxiety in your mind then draw it in the box.
References
Mulvahill, E. (2022, November 8). 8 art therapy activities to help kids identify and manage their feelings. We Are Teachers. https://www.weareteachers.com/art-therapy-activities/
McDonald, Alex & Drey, Nicholas. (2017). Primary-school-based art therapy: a review of controlled studies. International Journal of Art Therapy. 1-12. 
You can download this worksheet here.