Mental health day worksheet
(How to make it a global priority?)
What is the theory behind this Mental health day worksheet?
World mental health day is celebrated on 10th october every year. The aim of World Mental Health Day is to raise awareness of mental health issues around the world and to organize endeavors in support of mental health. Every year this day is followed by a specific theme.
The theme of the year 2022 is 'Make mental health and wellbeing for all a global priority'.
How will the worksheet help?
The aim of this worksheet is to motivate people to take action for the mental health of self and others. This worksheet is targeted to people from all age groups who belong to different walks of life, including people working as mental health care providers.
How to use this worksheet?
In accordance with this year's theme, mental health services and education are inaccessible to the people who belong to the marginalized cultures and parts of the world. Think of all the ways you can prioritize mental health globally by helping those people in a realistic way. You can take help from the examples given below. Fill in the given space in the globe below with the things you can do to help those in need..
Mental health day worksheet
(How to make it a global priority?)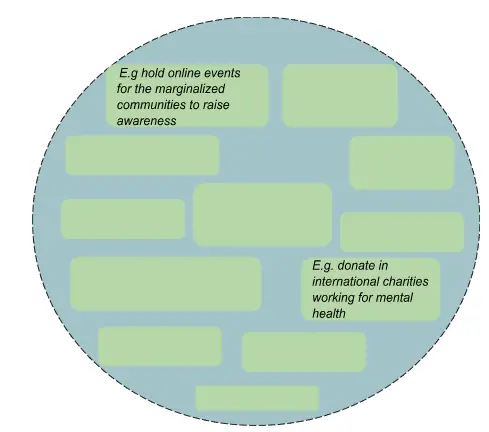 You can download this worksheet here.
Thanks for your feedback!
References