What is the theory behind this Mindfulness group therapy worksheet?
Mindfulness is giving attention to the present. The benefit of being mindful is that we are able to manage and organize our thoughts and feelings in an effective way because we are aware of them. Just as practicing mindfulness individually is essential for our personal growth, group mindfulness is helpful for our social and interpersonal relationships.
How will the worksheet help?
This worksheet contains a strategy to perform in a group setting. The technique will help in paying attention to the detail. This will help in creating mindfulness on both individual and collective level.
How to use this worksheet?
Read the description below and perform them with the other participants of the group. Pay attention to the details every object present in the room contains. the objects look, the objects smell, the textures felt against the skin of the palm. Clients can also perform it in their day to day life involving other people.
Mindfulness group therapy worksheet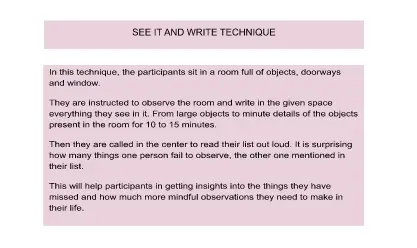 Now in the space below, write what you have observed in the room.
References
Carrión Victor G., & Rettger, J. (2019). Applied mindfulness: Approaches in mental health for children and adolescents. American Psychiatric Association Publishing.
Venkatesan, S. (2022). An overview of mindfulness and its implications for children and adolescents. Handbook of Research on Clinical Applications of Meditation and Mindfulness-Based Interventions in Mental Health, 15–34. https://doi.org/10.4018/978-1-7998-8682-2.ch002
You can download this worksheet here.