What is the theory behind this Object function worksheet for speech therapy?
Speech therapy can help individuals with speech difficulties in communicating effectively and to overcome the obstacles that emerge due to speech impediments. Young children seem to learn the names of the objects quickly, for example ball, key etc. But what a certain object does requires further learning skills. Knowing the object's function increases their vocabulary, providing them more content to communicate with.
How will the worksheet help?
This worksheet is aimed at starting age from 1 years onwards. This will help the clients in knowing the functions of basic objects and how to communicate it through speaking. The facilitator will help them by making them practice.
How to use this worksheet?
Look at the pictures below. This worksheet is aimed at clients who have already learned functions of various objects through occupational therapy. The facilitator will ask every object's purpose by pointing at it and the clients are required to answer the questions.
Object function worksheet speech therapy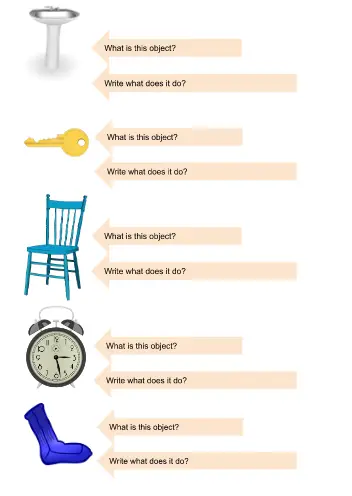 Reference
Beaulieu, C. L., Dijkers, M. P., Barrett, R. S., Horn, S. D., Giuffrida, C. G., Timpson, M. L., Carroll, D. M., Smout, R. J., & Hammond, F. M. (2015). Occupational, physical, and speech therapy treatment activities during inpatient rehabilitation for Traumatic Brain Injury. Archives of Physical Medicine and Rehabilitation, 96(8).
You can download this worksheet here.